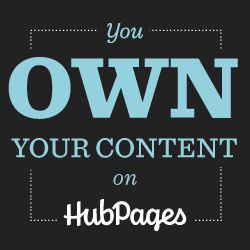 I've been writing for a website called Hubpages for nearly 3 years now. It's an amazing site where you publish pages (called Hubs) on any subject you like (within reason, nothing of an adult nature). You can write about food, cars, places you've visted, history, health, animals, basically anything that grabs your interest.
The best bit is that you can actually make serious money writing at Hubpages. There's various ways of doing this, you can earn from Google, Amazon and eBay. You simply write about your chosen topic, for instance Gluten Free Foods, add related Amazon or eBay products to your page and publish. Once your hub is published, Google will display related ads to your content.
You have to sign up with Google, Amazon and eBay, but Hubpages helps you with all of that. If someone clicks an ad, or buys a product, you earn money, simple as that. It's not only a great way of earning extra cash, but it's a great platform to get your work read on. It's also a great way to get coeliac disease and the need for more gluten free foods recognised if that's what you want to write about.
Click the Hubpages banner above to find out more. It's easy to sign up, you have to be 18, but other than that you just need a username and password. If you do decide to join and are having any problems, drop me a comment here with your Hubpages username and I'll try to help you out as best I can.
Happy Hubbing!
Lee